Market Research: location matters
Why should you care?
Consumers are very precisely localized in geographic space, space has its cost and the demand and the offer change according to the availability of space and so your company profitability. Having a good location allows you to attract people and be in a strategic position in regard to your competitors as well as partners. It's like in the chess game, where you move can make a difference between victory and defeat.
Why we do it better...
uGeo is the software that will provide you all the important information about the territory. Our data base contain information about population, local economy, trends, your competitors and many other elements. Throughout the use of the google map interface you will quickly and easily understand where and why should you open your sale point. Not enough? We will provide you with the forecast about your business revenues based on statistical models that use real data.
Ad hoc Researches: your needs, our priority
We are expert in the retail research (Shopping Malls, Retail Parks, Factory Outlets) and uGeo software is not the only service we want to offer you. We use all our energy, passion and knowledge to give you the greatest quality report containing analysis as:
Sample Surveys
Do you want to know who are your customers? What are their needs and preferences? Why do they still go to your competitor? We will give you the answer. We use face to face interviews, telephonics surveys and focus group to get in touch directly with who is going to be your customer. We gather all the information, look for relevant comparison, research the overall trends of the location you selected and create in a timely manner a clear, simple, easy but extremely precise and reliable report.
Feasibility Studies and Simulations
Are you going to open a new sale point and want to know how profitable is it going to be? A competitor has just opened near you and you want to know how many customers you can lose? A new road construction will bring more sales or only traffic jam? Let us solve your problems. We can estimate the average visitors of your sale point and tell you how much can you earn or lose.
Especially in the retail we can give you a very deep analysis with data about revenues per product type, revenues from the rents in your shopping mall, how many people can reach your stores and many other fundamental elements. Likewise with sample surveys studies also here we will give you the comparison with your competitors and the overall view of the market, everything in a unique report.
Not a retail business?  We do ad hoc research in any field, like pharmaceutical, diy and fashion.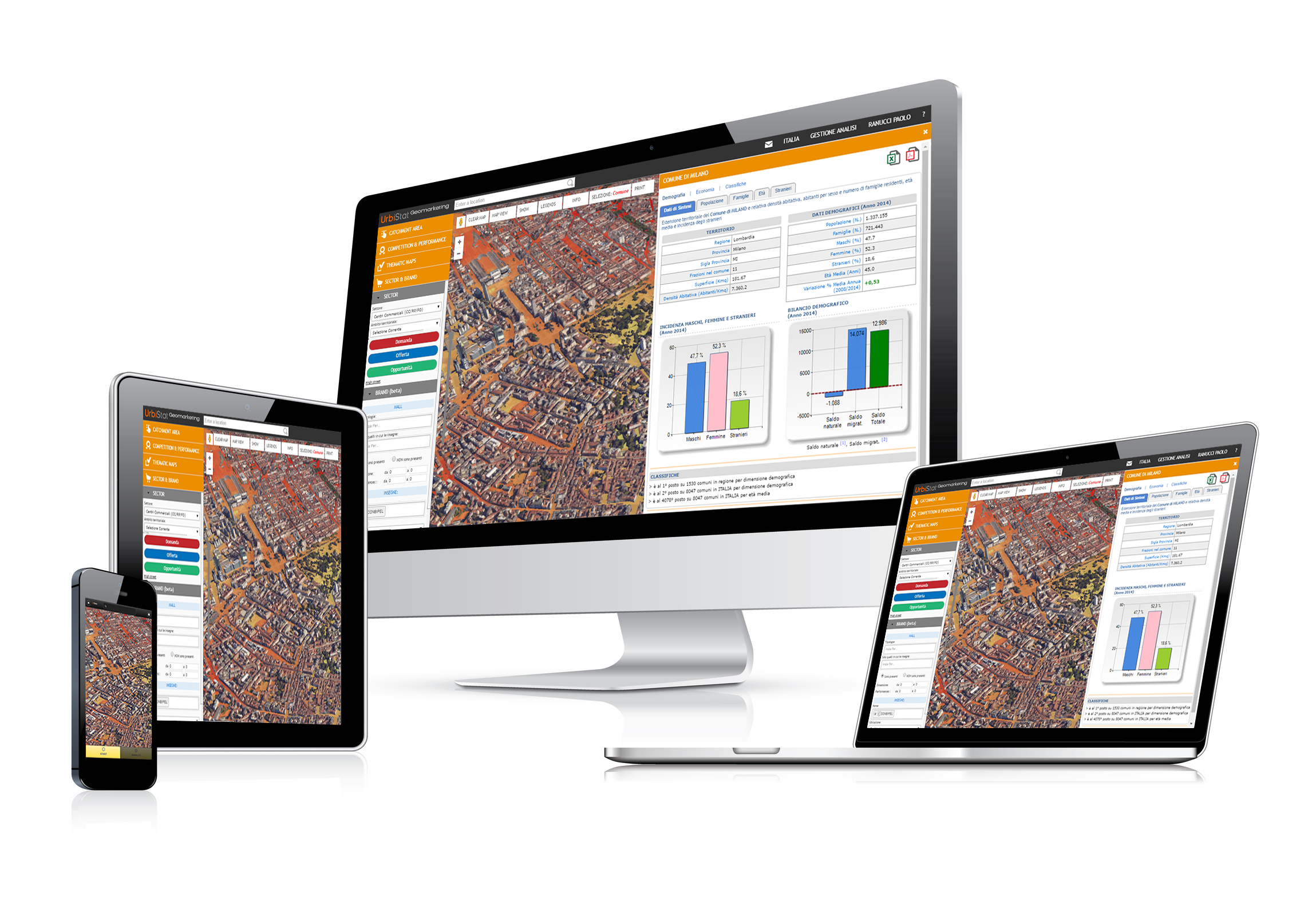 Do you need a Geomarketing software?
uGeo is the Geomarketing Software by Urbistat. With uGeo you can make easily sophisticated marketing analysis and studies over many Countries. You don't need any CD or DVD, it is based on Google Maps and accesible with any devices. Try it now.